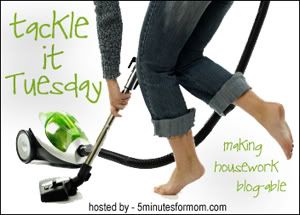 What a wonderful idea! Something to blog about and still be productive with cemented proof stored into the blogging world for all to see that us mommys don't just sit at home eating bon bons and watching soap operas. Ha!
Today I've decided to tackle a laundry pile. Granted this is by far not the only laundry pile in the house but it is one of the clean piles! It also is possible that some of this clean pile was merely located to another clean pile, but I assure you that whatever was relocated is certainly closer to its final destination that it previously was! :)
Folding laundry is one of my least favorite activities as far as housework goes. But in the name of blogging I am game! So upstairs Ace and I went to tackle a pile of laundry. Ace's crib often is a dumping ground for clean clothes, as it isn't his bed just yet. The cats avoid it (99% of the time) and thus its a safe place. But it needed to be done!
Check out what other people are tackling and tell us what you are tackling over at
5 Minutes for Moms
.
BEFORE:
DURING:
AFTER:
Besides laundry and certainly more important is prayer for Baby Stellan, he is in the hospital fighting for his life with RSV. You can get details and updates on
My Charming Kids
please keep Stellan and the whole family in your prayers.